SK Collet for End Mill
BT / NT Series
Collet Grade
Runout - Max μ
4xD
A 級
≦ 10μ
AA 級
≦ 5μ
When ordering, please specify the collet grade with A or AA.
For example:
SK10-06 AA or SK10E-04 AA
SK10-8PCS AA or SK10E-6PCS AA
The clamping range is 0.25mm if the inside diameter is less than 3mm; clamping range is 0.5mm if the inside diameter is over than 3mm.
SK-E collets special designed for end mill.
***Compare***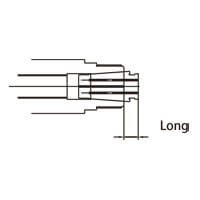 ASK Collet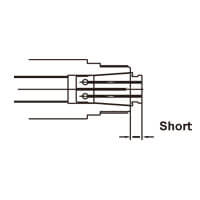 ASK - E Type
Gripping power of SK-E collets is 20 % more then SK collets. Can Provide high stability performance during milling.
SK06E (approx. 0.006kgs/pc)
Model No.
d
E
D
L
SK06E-03
3
15
10.4
25
SK06E-3.175
3.175
15
SK06E-04
4
16
SK06E-06
6
21
Unit: mm
SK10E (approx. 0.02kgs/pc)
Model No.
d
E
D
L
SK10E-03
3
15
15.6
31
SK10E-3.175
3.175
15
SK10E-04
4
20
SK10E-05
5
20
SK10E-06
6
24
SK10E-08
8
24
SK10E-10
10
30.5
Unit: mm
SK13E (approx. 0.04kgs/pc)
Model No.
d
E
D
L
SK13E-03
3
18
20
39
SK13E-3.175
3.175
18
SK13E-04
4
20
SK13E-05
5
20
SK13E-06
6
24
SK13E-08
8
28
SK13E-10
10
30
SK13E-12
12
39
Unit: mm
SK16E (approx. 0.08kgs/pc)
Model No.
d
E
D
L
SK16E-03
3
18
24.6
45
SK16E-3.175
3.175
18
SK16E-04
4
20
SK16E-05
5
22
SK16E-06
6
25
SK16E-08
8
34
SK16E-10
10
34
SK16E-12
12
34
SK16E-16
16
45
Unit: mm
SK20E (approx. 0.015kgs/pc)
Model No.
d
E
D
L
SK20E-04
4
18
29.1
54.3
SK20E-05
5
18
SK20E-06
6
24
SK20E-08
8
32
SK20E-10
10
38
SK20E-12
12
38
SK20E-14
14
39
SK20E-16
16
39
SK20E-20
20
50
Unit: mm
SK25E (approx. 0.25kgs/pc)
Model No.
d
E
D
L
SK25E-06
6
24
35.7
57
SK25E-08
8
32
SK25E-10
10
40
SK25E-12
12
42
SK25E-14
14
42
SK25E-16
SK25E-18
16
18
44
44
SK25E-20
20
46
SK25E-22
22
46
SK25E-24
24
46
SK25E-25
25
57
SK25E-25.4
25.4
57
Unit: mm
Inch Size
| Model No. | d |
| --- | --- |
| SK06E | 1/8, 3/16 |
| SK10E | 1/8, 3/16, 1/4, 5/16, 3/8 |
| SK13E | 1/8, 3/16, 1/4, 5/16, 3/8, 7/16, 1/2 |
| SK16E | 1/8, 3/16, 1/4, 5/16, 3/8, 7/16, 1/2, 9/16, 5/8 |
| SK20E | 1/8, 3/16, 1/4, 5/16, 3/8, 7/16, 1/2, 9/16, 5/8, 3/4 |
| SK25E | 3/16, 1/4, 5/16, 3/8, 7/16, 1/2, 5/8, 3/4, 1" |