MER Spring Collet Chuck
HSK Series
MER has more contact area between holder and collet to make better radial cutting force than standard ER.
Special design of MER High speed bearing nut, the clamping power is better than Standard ER type.
Suitable to use with ER-E type collet, the cutting condition will be excellent.
Also could be used with standard ER collet, the clamping range change to 0.5mm from 1mm Ex. MER20 holder + ER20 06 collet => Clamping range: 6~5.5mm
WER..G bearing wrench must be ordered separately.
***Compare***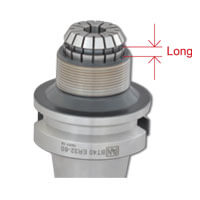 ER Holder + ER Collet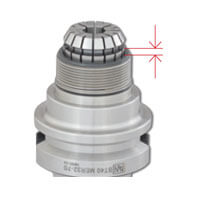 MER Holder + ER Collet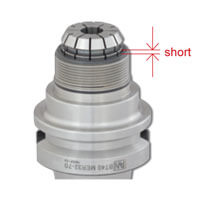 MER Holder + ER-E Type Collet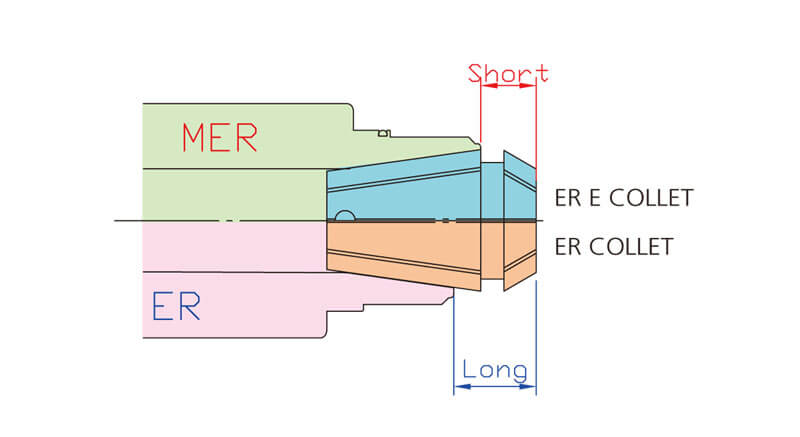 The design of deeper gauge line for MER holder. Recommend using ER-E type collet into the body (holder). The increasing length of contact area between collet and holder for improved clamping force.
| Model No. | Clamping Range | D | L | Wrench | Weight (kg) |
| --- | --- | --- | --- | --- | --- |
| HSK50A MER16-080 | 1~10 | 30 | 80 | WER16G | 0.80 |
| HSK50A MER16-100 | 1~10 | 30 | 100 | WER16G | 1.00 |
| HSK50A MER20-080 | 1~13 | 35 | 80 | WER20G | 0.80 |
| HSK50A MER20-100 | 1~13 | 35 | 100 | WER20G | 1.00 |
| HSK50A MER25-080 | 2~16 | 40 | 80 | WER25G | 1.00 |
| HSK50A MER25-100 | 2~16 | 40 | 100 | WER25G | 1.20 |
| HSK50A MER32-100 | 2~20 | 50 | 100 | WER32G | 1.30 |
| HSK63A MER16-080/100 | 1~10 | 30 | 80/100 | WER16G | 1.10/1.20 |
| HSK63A MER16-120/150 | 1~10 | 30 | 120/150 | WER16G | 1.30/1.50 |
| HSK63A MER20-080/100 | 1~13 | 35 | 80/100 | WER20G | 1.10/1.20 |
| HSK63A MER20-120/150 | 1~13 | 35 | 120/150 | WER20G | 1.40/1.60 |
| HSK63A MER25-080/100 | 2~16 | 40 | 80/100 | WER25G | 1.30/1.40 |
| HSK63A MER25-120/150 | 2~16 | 40 | 120/150 | WER25G | 1.70/2.10 |
| HSK63A MER32-080/100 | 2~20 | 50 | 80/100 | WER32G | 1.40/1.70 |
| HSK63A MER32-150 | 2~20 | 50 | 150 | WER32G | 2.50 |
| HSK100A MER16-100/160 | 1~10 | 30 | 100/160 | WER16G | 2.70/3.10 |
| HSK100A MER20-100/160 | 1~13 | 35 | 100/160 | WER20G | 2.80/3.30 |
| HSK100A MER25-100/160 | 2~16 | 40 | 100/160 | WER25G | 3.00/.360 |
| HSK100A MER32-100/160 | 2~20 | 50 | 100/160 | WER32G | 3.10/3.90 |
Unit: mm