ER Spring Collet Chuck
BT / NT Series
ER collet chuck with the flexibility that can clamp drill, reamers, end mills and taps.
ER16 / ER20 / ER25 / ER32 / ER40 are also suitable for ER power ball bearing nut, high speed bearing nut and wrench.
Wrench must be ordered separately.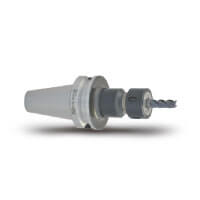 另可搭配強力型鋼珠螺帽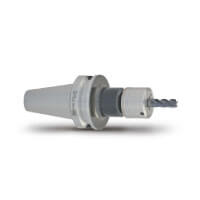 另可搭配高速鋼珠螺帽
| Model No. | Clamping Range | D | L | G | Collet Type | Wrench | Weight (kg) |
| --- | --- | --- | --- | --- | --- | --- | --- |
| BT30 ER08-060M | 1~5 | 12 | 60 | M6 | ER08 | WM08 | 0.50 |
| BT30 ER08-100M | 1~5 | 12 | 100 | M6 | ER08 | WM08 | 0.60 |
| BT30 ER11-100M | 1~7 | 16 | 100 | M8 | ER11 | WM11 | 0.60 |
| BT30 ER16-100M | 1~10 | 22 | 100 | M12 | ER16 | WM16 | 0.70 |
| BT30 ER20-100M | 1~13 | 28 | 100 | M14 | ER20 | WM20 | 0.80 |
| BT40 ER11-070M | 1~7 | 16 | 70 | M8 | ER11 | WM11 | 1.15 |
| BT40 ER11-100M | 1~7 | 16 | 100 | M8 | ER11 | WM11 | 1.20 |
| BT40 ER16-100M | 1~10 | 22 | 100 | M12 | ER16 | WM16 | 1.25 |
| BT40 ER20-100M | 1~13 | 28 | 100 | M14 | ER20 | WM20 | 1.30 |
| BT30 ER11-060 | 1~7 | 19 | 60 | M8 | ER11 | WER11 | 0.60 |
| BT30 ER16-060 | 1~10 | 28 | 60 | M12 | ER16 | WER16 | 0.60 |
| BT30 ER16-070 | 1~10 | 28 | 70 | M12 | ER16 | WER16 | 0.70 |
| BT30 ER20-060 | 1~13 | 34 | 60 | M14 | ER20 | WER20 | 0.60 |
| BT30 ER25-060 | 2~16 | 42 | 60 | M18 | ER25 | WER25 | 0.70 |
| BT30 ER32-060 | 2~20 | 50 | 60 | M24 | ER32 | WER32 | 0.75 |
| BT30 ER32-070 | 2~20 | 50 | 70 | M24 | ER32 | WER32 | 0.80 |
| BT40 ER11-070 | 1~7 | 19 | 70 | M8 | ER11 | WER11 | 1.20 |
| BT40 ER11-100 | 1~7 | 19 | 100 | M8 | ER11 | WER11 | 1.25 |
| BT40 ER16-070 | 1~10 | 28 | 70 | M12 | ER16 | WER16 | 1.20 |
| BT40 ER16-100/150 | 1~10 | 28 | 100/150 | M12 | ER16 | WER16 | 1.40/1.60 |
| BT40 ER20-080 | 1~13 | 34 | 80 | M14 | ER20 | WER20 | 1.30 |
| BT40 ER20-100/150 | 1~13 | 34 | 100/150 | M14 | ER20 | WER20 | 1.50/1.80 |
| BT40 ER25-080 | 2~16 | 42 | 80 | M18 | ER25 | WER25 | 1.50 |
| BT40 ER25-100/150 | 2~16 | 42 | 100/150 | M18 | ER25 | WER25 | 1.70/2.10 |
| BT40 ER32-060 | 2~20 | 50 | 60 | M24 | ER32 | WER32 | 1.30 |
| BT40 ER32-070 | 2~20 | 50 | 70 | M24 | ER32 | WER32 | 1.40 |
| BT40 -100/150 | 2~20 | 50 | 100/150 | M24 | ER32 | WER32 | 1.80/2.60 |
| BT40 ER40-080 | 3~26 | 63 | 80 | M28 | ER40 | WER40 | 1.70 |
| BT40 ER40-100 | 3~26 | 63 | 100 | M28 | ER40 | WER40 | 2.20 |
| BT50 ER16-100/150 | 1~10 | 28 | 100/150 | M12 | ER16 | WER16 | 4.10/4.30 |
| BT50 ER16-200/250/300 | 1~10 | 28 | 200/250/300 | M12 | ER16 | WER16 | 4.60/5.10/5.40 |
| BT50 ER20-100/150 | 1~13 | 34 | 100/150 | M14 | ER20 | WER20 | 4.20/4.50 |
| BT50 ER20-200/250/300 | 1~13 | 34 | 200/250/300 | M14 | ER20 | WER20 | 4.90/5.50/5.90 |
| BT50 ER25-100/150 | 2~16 | 42 | 100/150 | M18 | ER25 | WER25 | 4.20/4.80 |
| BT50 ER25-200/250/300 | 2~16 | 42 | 200/250/300 | M18 | ER25 | WER25 | 5.30/6.10/6.80 |
| BT50 ER32-100/150 | 2~20 | 50 | 100/150 | M24 | ER32 | WER32 | 4.40/5.20 |
| BT50 ER32-200/250/300 | 2~20 | 50 | 200/250/300 | M24 | ER32 | WER32 | 5.90/6.60/7.50 |
| BT50 ER40-080 | 3~26 | 63 | 80 | M28 | ER40 | WER40 | 4.30 |
| BT50 ER40-100/150 | 3~26 | 63 | 100/150 | M28 | ER40 | WER40 | 4.70/5.90 |
| BT50 ER40-200/250/300 | 3~26 | 63 | 200/250/300 | M28 | ER40 | WER40 | 7.10/8.20/9.30 |
Unit: mm